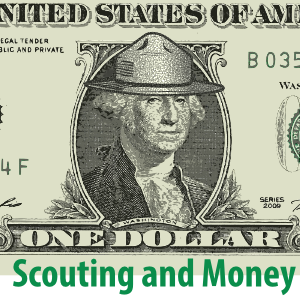 Troop Fee 
Effective for the 2017 recharter (covering January 1 – December 31), the following costs will apply to each Scout:
Scouts (without Boys Life)
Annual BSA Fee – $33

Annual BSA Insurance Fee – $4

Total Due:  $37
Scouts (with Boys Life)
Annual BSA Fee – $33

Annual BSA Insurance Fee – $4

Boys Life – $12

Total Due:  $49
Fundraising Obligation
Each Scout is expected to contribute (ideally by participating in troop fundraisers) $20 per month – $240 per year – starting January 1, 2017.
The troop treasurer will deduct $60 from each Scout Account on/about March 31, June 30, September 30, and December 31 of each year.
Scouts/families who do not wish to fundraise on behalf of the troop are not obligated to do so.  They just have to make sure there are sufficient funds in the Scout Account at the end of each quarter to cover the $60 withdrawal.
Fundraising Options
Effective immediately, all fundraisers will be earmarked for Scouts – and we will be increasing the number of fundraising options that are available.  Of importance, we have purposefully scheduled fundraisers to make it relatively easy for Scouts to earn enough money to cover the $60/quarter obligation.