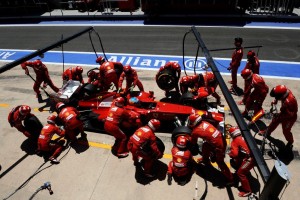 Boy Led Doesn't Mean No Parental Involvement
One of the mantras that you will hear touted around a Boy Scout Troop is "Boy Led." This means that the activities and order of the day is led by the young men of the troop. Adult leaders are there for support, or as I like to say "health, morale, safety, and discipline."  It allows the young men of our troop to develop solid leadership skills. It isn't easy, often chaotic. It is hard sometimes to sit on one's hands or keep one's mouth shut when the adults know how to get it done more efficiently and effectively. In Formula 1 racing, most of the car's crew has to stay behind a wall.
However, where does that leave parents? How can they be a part of the great adventure of Scouting without getting in the way of the boy-led program? How can you help with the tires, fuel, and keep the car racing?
Our troop needs parents. We can't function without a strong support team. Much like Formula 1 racing, the pit crew keeps the troop's car on the track.  If we don't get help, we run the risk of burning out our leaders and the few folks who have stepped up to volunteer. The troop falters, and eventually collapses due to the lack of parental support. The car wrecks despite the best efforts of the youth leaders.
Be A Role Model
The tween/teenage years are a precarious time. More peer interaction seems to reduce the amount of time parents have with their sons. Volunteering with our troop is a great way for your son to see his parents do something important for not only themselves, but especially for others. It is a great way to spend time with your son.
Pit Crew Positions
Do you have a special talent or skill? Take a look at the many merit badges offered through scouting. Could you sign up and be a merit badge counselor for one of those merit badges?
Could you sign up and be one of the additional adults on a camping trip? We have about 10 trips a year. Could you do one or two? Could you offer to be the chief cook for the adults on a trip? Can you tow a trailer or canoe rack? Can you help with car shuttles on trips that have us starting in one spot and ending in another?
Do you know of a special trip that would be fun to go to as a troop? Could you help with the planning and booking of a trip?
Do you have some great fundraising ideas? Could you take on the role of Chief Chocolatier for the Easter candy sales?
Do you have a couple hours a month to help a boy advance? Could you serve on the committee?
You can do the job. There is plenty of training, transitional time, and some hand holding. We can't run the troop without you.
Each family should take on a supporting role in the troop. We need you in our pit crew.