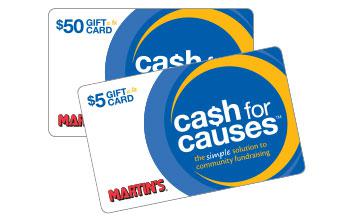 Continuing our conversation from last night's parent meeting, here is an easy way to offset the cost of Troop activities and outings – at no additional cost to you or your family:
Our Troop participates in the Martin's Cash for Causes program.  
Purchase Martin's gift cards through the Troop and 5% of your purchase is deposited into your son's Scout account.  It's "free money" if you shop (or purchase gas) at Martin's!
If you spend $100 per week on groceries or gasoline, your son will accumulate more than $250 per year in a Scout account in his name!
Kristen Bird runs the program for us, and any questions can be directed to Kristin at 443.286.4121.
How it Works:
  To purchase cards:

Kristen sends out a note to let the Troop know she is accepting orders for Martin's cards.  Just let her know the value of cards you would like to purchase.

Bring a check payable to Troop 883 for the face value of the card.   

PLEASE NOTE:  You must pay for the cards before the order is placed.

Kristin will bring the cards to the next Troop Meeting, or you can make alternative arrangements with her to pick them up.

You use the full face value of the cards (just like a debit card) at all Stop & Shop, Giant, Super Giant, Tops, and Martin's store locations.

Five percent (5%) of the value of the card is deposited into your son's Scout Account.

The proceeds from the account can be used to pay for Scouting-related items for your son, including:

Trips and outings

Troop dues

Uniforms

Other reasonable, Scout-related expenses