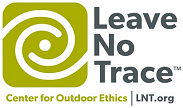 WHEN:  October 7-9, 2016
WHERE:  Downs Memorial Park, Pasadena, MD
CLICK HERE FOR COURSE FLYER
This course is designed to train Boy Scouts (age 14 and older), Venturers, and Adult Leaders to serve as Leave No Trace Trainers for Scouting and the 
wider public.  
(For a Scout to serve in the position of Leave No Trace Trainer,
he must complete the Leave No Trace Trainer Course)
The youth leaders of a busy outdoor adventure program must be able to apply Leave No Trace to a variety of activities in differing environments during all seasons of the year, all done in the company of Scouting youth and adults with varying levels of outdoor skills, self discipline and commitment to an outdoor ethic.
Additionally, the course will provide participants with a deeper understanding of Leave No Trace to help individuals make and guide others in making good choices to minimize recreational impacts to help protect the wonderful outdoor locations they choose to enjoy.
Individuals planning trips to National High Adventure Bases, Camp Staff members, Unit Leaders, and those in District or Council training positions are urged to attend.