Troop 883 – Our Vision of Success
Troop 883 is a boy-led Troop made up of strong Patrols that work together to provide opportunities for advancement, leadership, fun, and outdoor adventure.
Our main focus is to improve and perfect the five fundamental concepts that help make our Troop exceptional: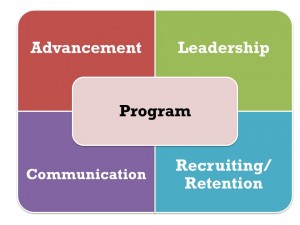 Our Troop functions using the Patrol Method.  The Patrols are the central units of the Troop.  Boys know their Patrol yell and proudly display their Patrol flag at all Patrol and Troop activities.  The Patrol Leader knows the boys in his Patrol.  He creates opportunities for the boys to contribute to the success of their Patrol and the Troop while also meeting their personal goals.  The Patrols take pride in keeping their equipment in working order and looking good, and friendly competition between the Patrols helps to create Patrol spirit and loyalty.
The Senior Patrol Leader efficiently and effectively runs fun and informative Troop meetings, with an emphasis on both completing the objectives for the meeting and keeping to the schedule to assure that meetings start and end on time.  Under the leadership of a strong SPL, the adult role in the meetings is limited to occasional announcements, Scoutmaster Minutes, and skill instruction (as requested by the PLC).  The SPL also keeps in mind the goals of the Troop, which were set by the PLC at the Troop's annual Program Planning Meeting, and helps the Troop to make progress toward achieving those goals. The SPL also ensures the Troop makes available advancement opportunities to all Scouts.  The Scoutmaster sets aside time specifically for the coaching and mentoring of the SPL and other Troop and Patrol leaders.
Under the direction of the Assistant Senior Patrol Leaders, all of the other boy leaders within the Troop work to achieve the personal position goals that they set to help the Troop succeed.
We have a vibrant and active Venture Patrol for older and more experienced Scouts.
All Scouts are treated with respect and are encouraged to follow the principles of the Scout Oath and Law.